We asked Burnt Butter Table's Emilie Pullar to create the perfect dish to enjoy with our Single Vineyard 125 Gimblett Chardonnay 2020, and it's fair to say that Emilie has nailed the brief!
We have the recipe for you below so you can recreate this gastronomic experience at home for your loved ones, don't forget to order some of our 125 Gimblett Chardonnay 2020 to really elevate the evening.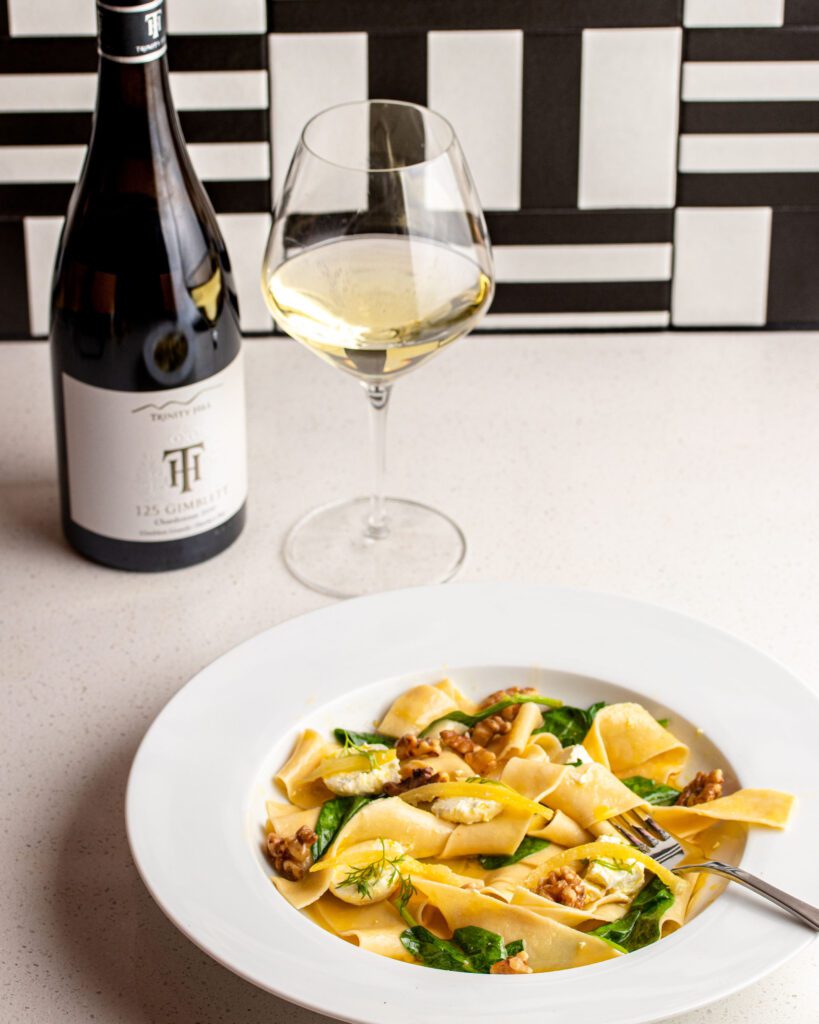 PAPPARDELLE IN A LEMON BUTTER SAUCE WITH BABY SPINACH, GOATS CHEESE, PRESERVED LEMON AND WALNUTS
When I was asked to pair a dish with the 125 Gimblett Chardonnay my mind went straight to a butter sauce. I was recently in Hawke's Bay where I picked up some goats cheese and preserved lemon at the Farmer's Market and knew instantly that this was the dish for this beautiful wine. Silky pasta ribbons in a buttery lemon sauce with tangy but creamy goats cheese, crunchy toasted walnuts and some freshness from the baby spinach and preserved lemon. Altogether a simple but harmonious combination of flavours which you have to try!
Serves 4 | Prep time 1 hour (includes dough resting) | Cook time 10 minutes
Ingredients
For the pasta:
400g '00' flour (plain flour will work perfectly)
228g eggs (this will be approx 4 eggs)
For the sauce:
150g butter, cubed (I prefer unsalted so I can season myself but salted is fine)
Juice of half a lemon
½ cup walnuts pieces
50g baby spinach leaves
150g goats cheese, torn into small pieces (anything will work but something like a chevre is ideal)
1 – 2 tbsp preserved lemon, finely sliced (freshly grated lemon zest will work too)
Parmesan to serve
Salt and pepper
Method:
For the pasta:
In a bowl or on the bench, make a well in the flour
Tip the eggs into the well and start to whisk them with a fork, breaking up the yolks and gradually incorporating the flour from around the sides into the middle.
Keep doing this until the mixture in the middle is thick enough that it won't escape or run out – a scrambled egg consistency!
Go in with a bench scraper or your hands and start to fold it all together, cutting the egg mixture into the flour in an up and down motion. You are just trying to get a really evenly incorporated shaggy mixture.
Bring it all together into a mound with your hands. Squeeze and knead the mixture for a few minutes until it comes together into a workable ball. It will – don't fear! If it feels dry you can wet your hands and keep kneading.
When it comes together and has a slightly dimpled surface wrap it in cling film and rest for 10 minutes. After 10 minutes knead for a further 3 – 4  minutes until you have a nice smooth dough ball. The double rest is key!
Wrap tightly and rest for at least 30 mins but I prefer an hour or up to three.
Rolling
Work with a quarter of the dough at a time, keeping the rest tightly wrapped as you work.
Flatten the quarter out with your hand or a rolling pin, dust with flour and roll through the widest setting, then the next.
Fold the piece in half and roll back through the widest then the next. I repeat this process a few times. By working the dough you are creating smoother and silkier sheets.
Roll through the remaining settings twice each until it is your desired thinness, dusting with flour in between if it feels sticky. For pappardelle I roll to the second to thinnest or thinnest setting.
I cut the sheet into lengths of around 29cm then cut into 2cm wide strips. Lie flat on a tray lined with baking paper and sprinkled with semolina to stop them sticking. If you dust the strips really well with semolina you can form them into little nests.
For the sauce
Get a big pot of water boiling and generously salt. Cook the pasta for 2 – 3 minutes.
At the same time melt the butter over medium heat until it just starts to sizzle then add the walnuts and toss.
Lower heat to medium and add the lemon juice and vigorously whisk into the butter so it emulsifies.
When the pasta is almost cooked add ¼ cup pasta water to the sauce and again whisk vigorously while shaking the pan to make sure it mixes in well.
Season the butter sauce to taste if using unsalted butter
Drain the pasta then add straight into the sauce (I don't drain I just use tongs to transfer it straight from the pot to the sauce)
Add the spinach, mix gently then leave it to gently bubbly for a minute until spinach has wilted slightly.
Transfer to plates and top with the goats cheese, preserved lemon, freshly cracked pepper and finely grated parmesan.
Enjoy!
Love Burnt Butter Table & Trinity Hill