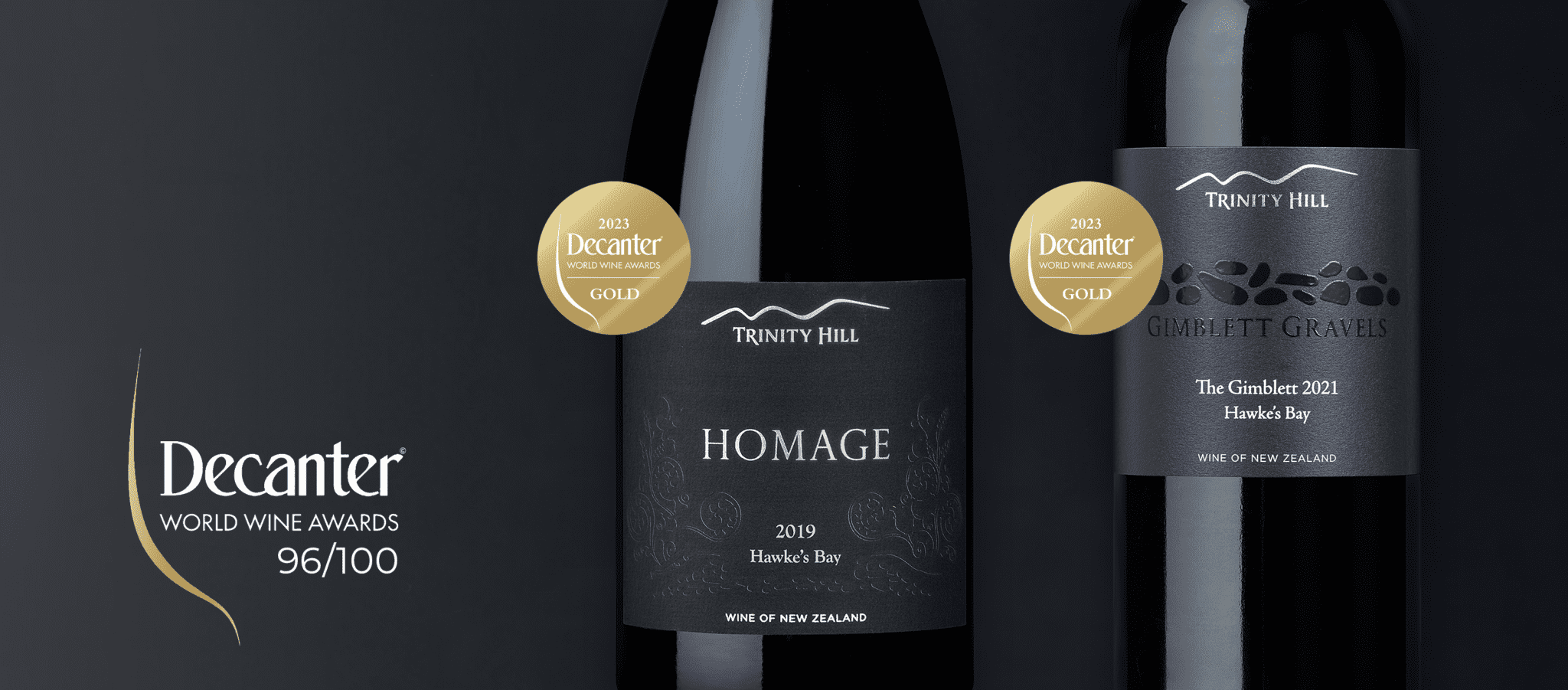 Hawke's Bay, New Zealand – June 8th, 2023 – Trinity Hill Wines, located in the renowned Gimblett Gravels Wine Growing District of Hawke's Bay, is delighted to announce its success at the Decanter World Wine Awards 2023. The highly respected competition has honoured Trinity Hill with two prestigious Gold Medals, reaffirming their commitment to crafting exceptional wines that reflect the terroir of the region.
The Homage 2019, Trinity Hill's iconic Syrah, secured a coveted Gold Medal with an impressive score of 96 points, the top score for New Zealand entrants within the Syrah/Shiraz category, and an outstanding achievement for this wine on the back of being awarded a Gold Medal at London's International Wine Challenge 2023 last month. The judges noted of the Homage 2019, "A delicate perfume of plum and blackcurrant with a subtle undercurrent of white pepper; bursting with energy and youth, this superb sleeping giant needs time to evolve."
Trinity Hill's Gimblett Gravels 'The Gimblett' Red Blend 2021 also achieved a Gold Medal, again receiving a score of 96 points. The Decanter judges describe this wine, "Mouthwatering notes of ripe raspberry, roasted plum and coffee with a savoury, herbaceous edge; firm and robust with a cleansing acidity and an impressively long finish."
Chief Winemaker of Trinity Hill, Warren Gibson says, "The team at Trinity Hill are extremely pleased to receive two high Gold Medals for our 2019 Homage Syrah and 2021 "The Gimblett" Cabernet blend. These rewards reinforce our long-term investment, dedication and faith in the Gimblett Gravels Wine Growing District. After much recent success with Chardonnay from this same area, we are particularly pleased to add to these achievements from our core red varieties Syrah and the Cabernet family."
The Decanter World Wine Awards is one of the most prestigious international wine competitions, recognised for its rigorous judging process and esteemed panel of experts. The awards celebrate and commend the highest standards of excellence in winemaking worldwide, providing a benchmark for exceptional quality and craftsmanship.
Trinity Hill continues to garner international acclaim for its unwavering commitment to producing wines of exceptional character and quality. These recent Gold Medals at the Decanter World Wine Awards further reinforce Trinity Hill's position as an important producer in the New Zealand wine industry and a global ambassador for the Gimblett Gravels District.
Decanter World Wine Awards:
Now in its 20th year, Decanter World Wine Awards (DWWA) has firmly established itself as the world's largest and most influential wine competition. Respected globally for its rigorous judging process and world-class judges, DWWA results are trusted internationally by both trade and consumers.