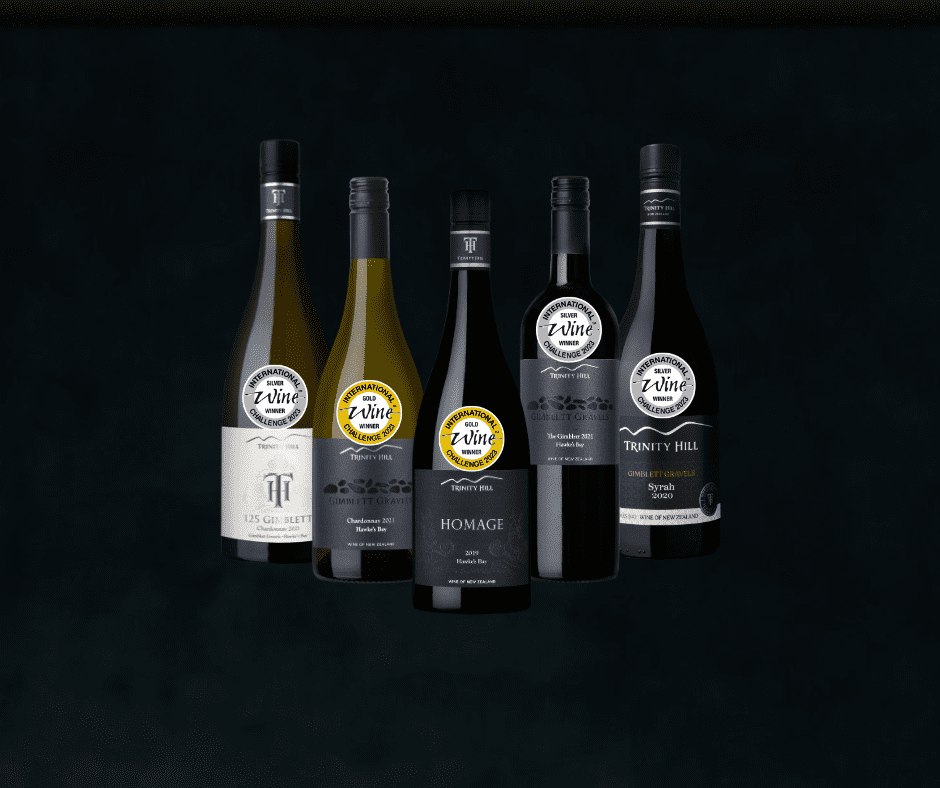 Hawke's Bay, New Zealand – May 22nd, 2023 – Trinity Hill winery, situated in the renowned Gimblett Gravels Winegrowing District of Hawke's Bay, is proud to announce its results at the International Wine Challenge 2023. After receiving a Gold Medal, three Trophies and the Champion White Wine in 2022 for the Gimblett Gravels Chardonnay 2020, the following vintage Gimblett Gravels Chardonnay 2021 was awarded a gold medal in this year's initial results. In total, the 2023 competition has awarded Trinity Hill six medals, including two Gold Medals from the first round of announcements.
Trinity Hill's flagship wine, the Homage Syrah 2019, secured a Gold Medal, underscoring its exceptional quality. Homage is a wine that speaks of its place and represents the definitive expression of New Zealand Syrah. The IWC judges noted on the Homage 2019, "Blue fruit, dark chocolate, red cherries on the palate. Tobacco, leather, spice. Rounded tannins. Lovely peppery nose."
Additionally, Trinity Hill's Single Vineyard 125 Gimblett Chardonnay 2021 earned a Silver Medal. These awards highlight Trinity Hill's passion for producing Chardonnay's that exhibit complexity, balance, and finesse.
Trinity Hill was further acknowledged with the Silver Medals awarded to Trinity Hill Wines' Gimblett Gravels Syrah 2020 and Gimblett Gravels The Gimblett 2021, two wines that particularly showcase the unique terroir of the Gimblett Gravels Winegrowing District.
Warren Gibson, Trinity Hill's Chief Winemaker comments, "Following the achievements of the Trinity Hill 2020 Gimblett Gravels Chardonnay in last year's International Wine Challenge, it is great to see continued success in the 2023 awards. Gold medals for the 2021 Gimblett Gravels Chardonnay and 2019 Homage Syrah, along with a range of silver medal awards reinforce and reward the focus of the entire team in pursuing the highest level of wine quality at Trinity Hill."
The International Wine Challenge is widely recognised as one of the most rigorous and influential wine competitions in the world. Its expert panel of judges evaluates thousands of wines through a rigorous blind-tasting process, ensuring that the awarded wines truly represent the highest standards of quality and craftsmanship.
"We are thrilled to receive these accolades at the esteemed International Wine Challenge," says CEO Rebecca Poynter. "These awards are a testament to our team's passion, expertise, and commitment to crafting exceptional wines that embody the spirit of our region. We are proud to showcase the incredible potential of Hawke's Bay wines on a global stage."
Trinity Hill Wines continues to receive international acclaim for its commitment to producing wines of exceptional character and quality. These recent accolades at the International Wine Challenge further reinforce Trinity Hill's position as a leading producer in the New Zealand wine industry.
The International Wine Challenge 2023 Results:
Trinity Hill Homage 2019 – Gold Medal
Trinity Hill Gimblett Gravels Chardonnay 2021 – Gold Medal
Trinity Hill Gimblett Gravels Syrah 2020 – Silver Medal
Trinity Hill Single Vineyard 125 Gimblett Chardonnay 2021 – Silver Medal
Trinity Hill Gimblett Gravels 'The Gimblett' 2021 – Silver Medal