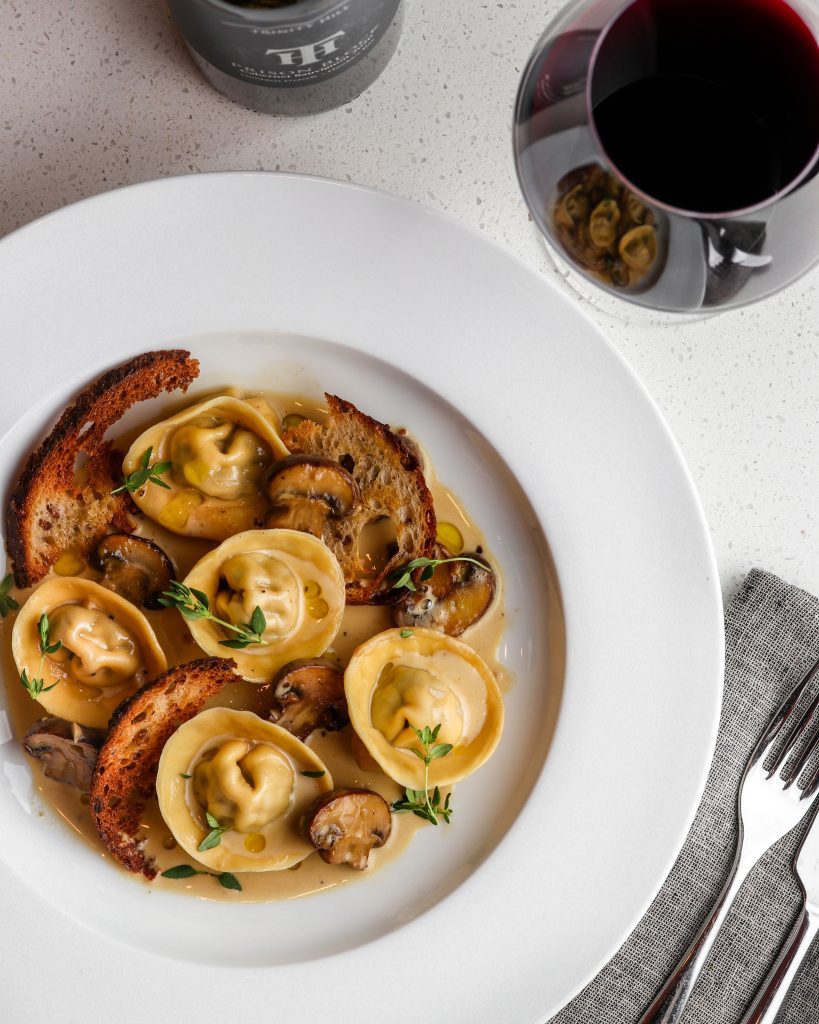 Mushroom cappelletti in a creamy white wine sauce with herbs and sourdough croutons
You might look at something like this and think it's impossible, but I promise you it's so achievable when you break it down into steps. When I was asked to pair a dish with such a special wine like the Prison Block Cabernet Sauvignon, I knew it had to be something spectacular and delicious. The idea for this dish came from having made a beef wellington recently. When I was cooking down the mushrooms for the duxelles layer I knew this process would create a magic pasta filling and it is so simple to do. When I read the tasting notes of the wine which included herbs and toast, the dish all started coming together in my head. I hope you give it a try; it is worth the effort I promise you.
Serves 4
Ingredients:
For the pasta:
400g '00' or plain flour
220g eggs
For the filling:
350g swiss brown mushrooms, chopped in half
Salt and pepper
1 tbsp fresh thyme leaves, roughly chopped
90g ricotta
20g parmesan, finely grated with a microplane
For the sauce and serving:
1 tbsp butter
1 tbsp olive oil
250g swiss brown mushrooms, sliced into 2 or 3 slices depending on the size
2 cloves garlic, finely diced
1/3 cup white wine
½ cup cream
½ cup finely grated parmesan
Pepper and salt to taste
1 – 2 tbsp lemon juice
Sourdough shards, I like to serve 3 – 4 per person so cut thin shards off a loaf of sourdough. Brush them with olive oil and sprinkle with salt. Bake in the oven at 180 celsius for 15 mins or until just golden and super crispy. Keep a close eye on them they can turn quickly.
Method:
For the pasta:
In a bowl or on the bench, make a well in the flour
Tip the eggs into the well and start to whisk them with a fork, breaking up the yolks and gradually incorporating the flour from around the sides into the middle.
Keep doing this until the mixture in the middle is thick enough that it won't escape or run out – a scrambled egg consistency!
Go in with a bench scraper or your hands and start to fold it all together, cutting the egg mixture into the flour in an up and down motion. You are just trying to get a really evenly incorporated shaggy mixture.
Bring it all together into a mound with your hands. Squeeze and knead the mixture for a few minutes until it comes together into a workable ball. It will – don't fear! If it feels dry you can wet your hands and keep kneading.
When it comes together and has a slightly dimpled surface wrap it in cling film and rest for 10 minutes. After 10 minutes knead for a further 3 – 4  minutes until you have a nice smooth dough ball. The double rest is key!
Wrap tightly and rest for at least 30 mins but I prefer an hour or up to three.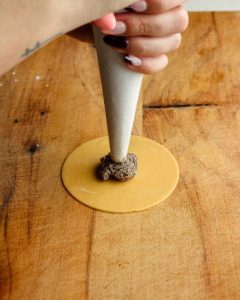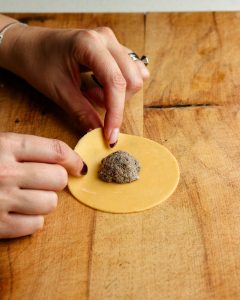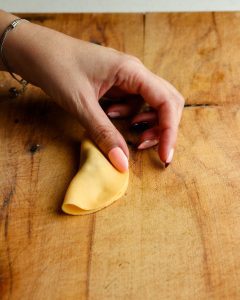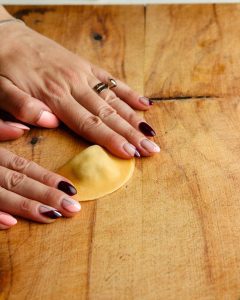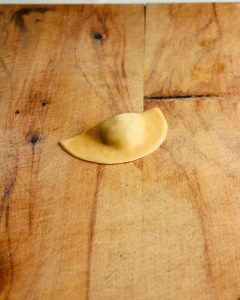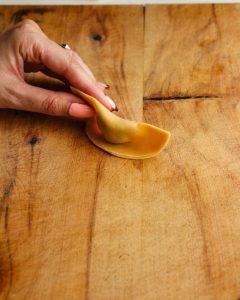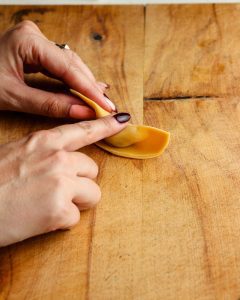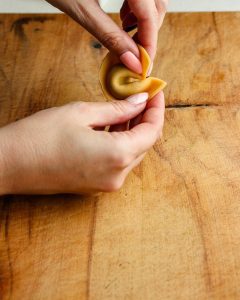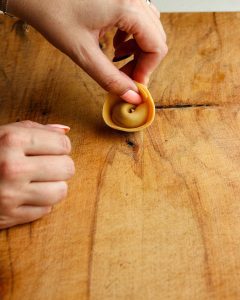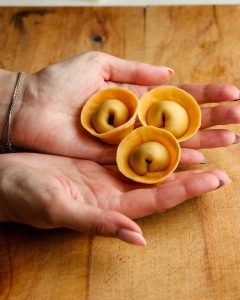 For the filling:
While your pasta is resting make the filling.
In a food processor blend the mushrooms with a big pinch of salt and a few crack of black pepper until very finely chopped and almost a paste.
Heat a fry pan over medium heat and add the mushrooms to the dry pan – no oil needed.
Fry the mushrooms for 12 – 15 mins stirring every so often until all the water evaporates. They will reduce a lot, that is what we want! After about 10 mins add the chopped thyme.
You want them to really dry out, almost sticking to the pan. When done remove and let it cool.
When cooled mix with the ricotta and parmesan and season to taste. Put into a piping bag or a snap lock bag with the corner snipped. Alternatively you can just have the filling in a bowl and spoon the filling onto the pasta rounds.
Rolling and shaping the pasta:
Work with a quarter of the dough at a time, keeping the rest tightly wrapped as you work.
Flatten the quarter out with your hand or a rolling pin, dust with flour and roll through the widest setting, then the next.
Fold the piece in half and roll back through the widest then the next. I repeat this process a few times. By working the dough you are creating smoother and silkier sheets.
Roll through the remaining settings until you reach the thinnest one (do the second to thinnest if you like it thicker)
Using an 8 – 9cm circular cookie cutter (or a knife around a glass) cut out circles and place a teaspoon of filling into the middle.
Fold the circle in half pressing all the air out and firmly sealing the edges. Place it upright like in the picture and press down on the filling with your finger then bring the edges around and squeeze together.
Press around the whole outside rim of the cappelletti so you are thinning out the double layer slightly.
Put the finished cappelletti on a tray lined with baking paper and loosely cover with clingfilm. If you aren't cooking them straight away, they can be frozen open on a tray until frozen (30ish minutes) then transferred to a snaplock bag or container to be cooked from frozen.
If the circles are drying out at all before getting to them you can cover them with cling film or run a wet finger around the edge of the filling to help seal the edges.
Finishing the dish:
For the sauce heat a pan over medium heat then add the butter and olive oil.
Add the mushrooms, toss to coat then leave them undisturbed! You want them to get some golden colour so just leave them to cook for 8 – 10 mins turning once when getting some colour.
When they are nice and toasty add the garlic, toss and let that gently sizzle for a minute or so.
Cook your cappelletti in a pot of well salted water for 4 – 5 mins at this stage.
Add the white wine to the mushrooms and let it reduce by half.
Add the cream and let it come to a gentle simmer, lower the heat if you need.
Add the parmesan and let it melt through.
Add the lemon juice to taste (I like things on the lemony side so you do you!) and season to taste with salt and pepper.
The sauce can bubble away gently then add your pasta straight into the sauce with a little splash of pasta water if you need.
Let it gently bubble for a min then divide between plates and serve with extra parm, the sourdough croutons and some extra fresh thyme leaves over top. I generally allow 5 – 7 cappelletti per person.